HUNTING SHADOWS is ON SALE!

Now, till whenever I decide to stop, "Hunting Shadows" will be $7.95 a copy! Regularly $16.95 each, this is a major sale so don't miss out on your chance to get a first edition signed-by-the-author copy today!


Power of the black crystals...

  Drex gripped the base tighter as he'd been shown and felt/heard the thing break loose from the mother boulder. He pulled it away gently, being careful not to get the gloves caught on the surrounding formations and took a moment to stare down at his prize.

  Gods, it's so beautiful... Hundreds of tiny, perfectly formed needles sparkled with dark rainbows as he shifted it around to catch more of the torchlight. Incredible. How could something so dark and ominouse be filled with so much light? How could rainbows be black? He stared down mesmerized at a hundred tiny reflections of himself, each and every dark one of them different...

Fangs and madness...

Few ventured into the deadly vine jungle by day, and when night fell--a span of planetary darkness that lasted sixty hours--only the insane considered it home...

Meet Drexus Tavosn: scarred hunter, rueful philosopher, outcast. A loner, to him the draz jungle was sanctuary, the land beautiful, its savagery simple and direct.

Then a mysterious poison came, spreading madness and death.

To find the cure and protect those he loved, Drex had to leave the jungle for a place far deadlier.

Drex had to go to hell...

"Hunting Shadows ~ Book One In the Drexus Tavosn Saga"

  An esoteric journey through politics, religion and bigotry.

  A 'Tolkien-esque' adventure across a tropical alien world to end a mysterious plague.

  The personal struggle of a tortured soul, a reluctant warrior

--And vampire tale unlike any other!

  Follow the trail of the vine-jungle Hunter, Drexus Tavosn. An outcast loner, Drex' dreams are haunted by a fire-eyed demon of long fangs and talons: a nightwalker on a planet in which the nights last for three days--Or is it the psychic manifestation of a mysterious plague, one that drives it's victims murderously insane before it kills them?

  Through prophesy, bigotry, politics and betrayal, Drex struggles to purge the world of the descending madness--if he can escape the grasp of the demon in his own soul first...

~ To Buy Books ~

If you would like a SIGNED COPY - When ordering, please write to whom the book should be inscribed in the "Comments" section of the screen. Thank you.

Takes you to another page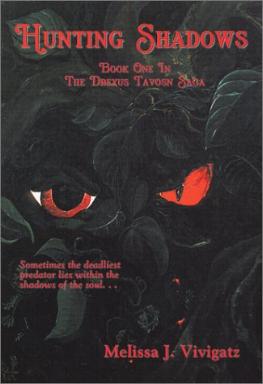 Paperback: 320 pages

Publisher: Dragon Vine; (December 12, 2001)

ISBN: 0971545901

Size: 5-½" X 8-½"